Note:
Your 3G dongle should be compatible with N8SE before you can use it to connect to Internet.
Even if your dongle is supported you may not be able to connect to internet if your service provider has locked it.
You will need to enter Mobile Operator settings on "Add 3G network" screen. Please refer to KB10020A for a Mobile Operator Settings.
Step 1:
Touch the App Drawer icon located on bottom right of screen as shown below
Step 2:
Browse your App Drawer and open "Settings"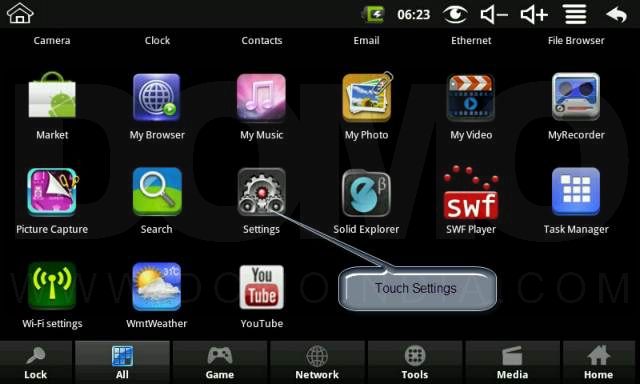 Step 3:
Touch Wireless and networks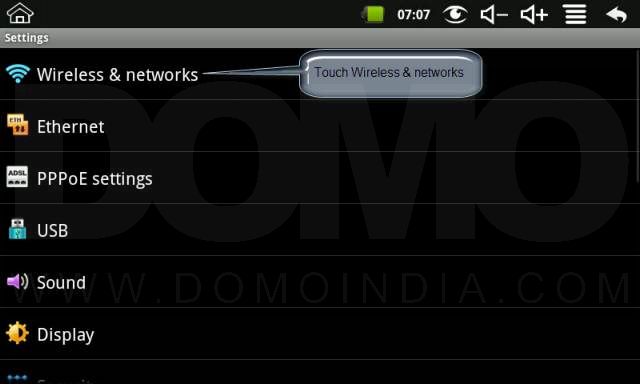 Step 4:
Touch 3G network settings
Step 5:
Touch 3G dongle support list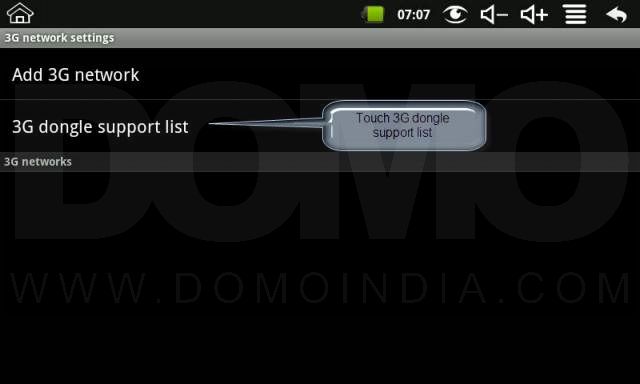 Step 6:
In 3G dongle support list confirm whether your dongle listed or not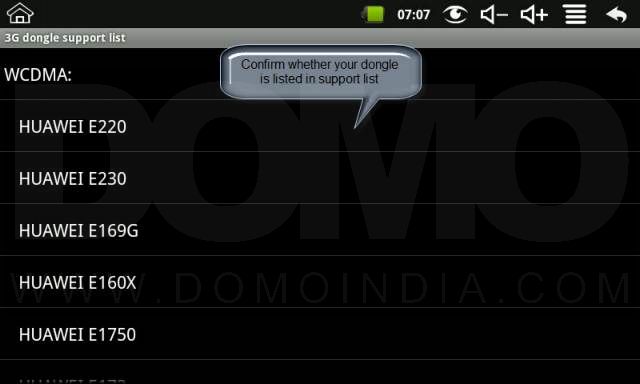 Step 7:
Once you have confirmed that your dongle is supported touch Back key to return to 3G network settings menu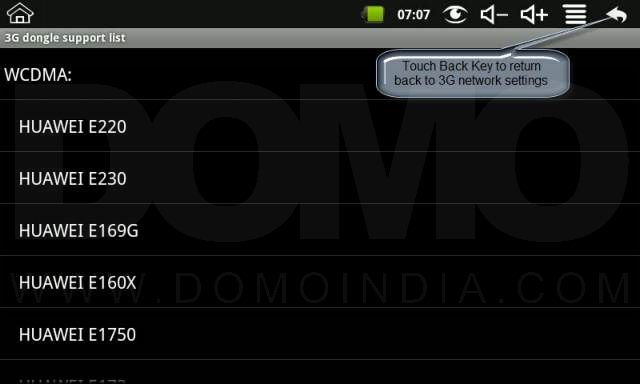 Step 8:
Touch the Back key to return back to Wifi and network settings menu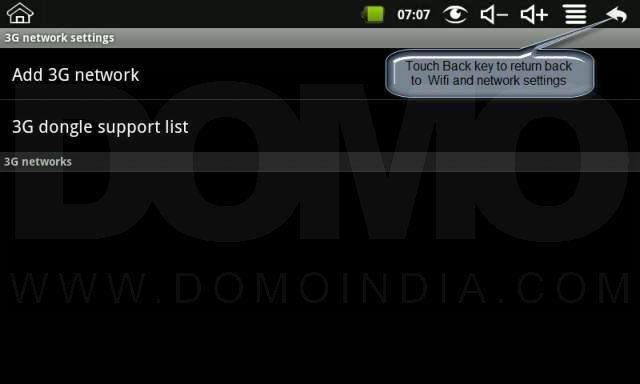 Step 9:
Touch the Back key to return back to Settings menu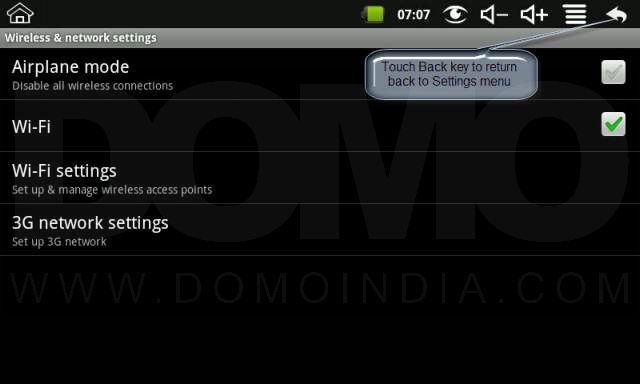 Step 10:
In settings menu touch USB
Step 11:
In USB settings uncheck "Mass storage" option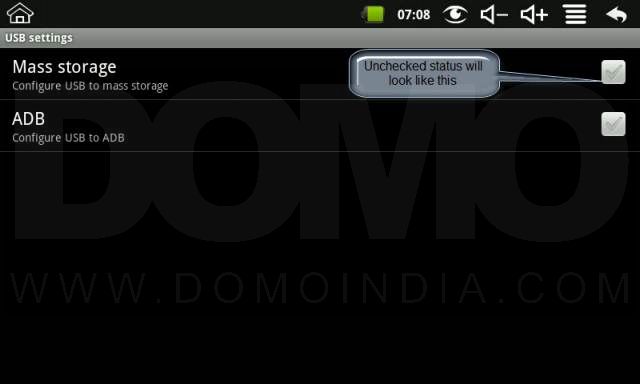 Step 12:
Touch back key to return back to Settings menu
Step 13:
In settings menu touch Wireless and networks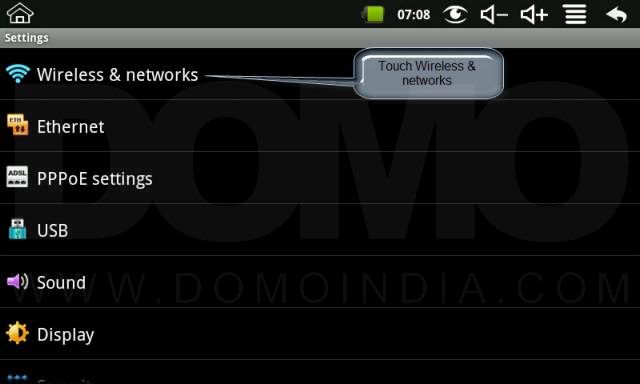 Step 14:
Touch 3G network settings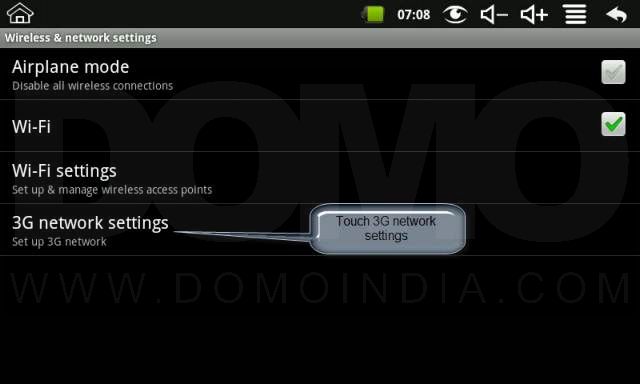 Step 15:
Touch Add 3G network
Step 16:
In Add 3G network touch on "Name" and fill in a name for your connection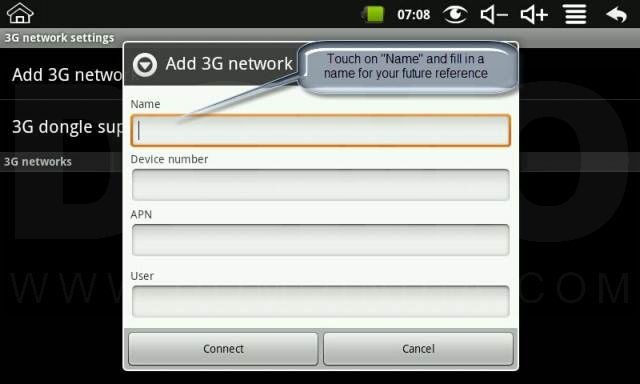 Step 17:
Touch on "Device Number" and fill in the dial up number of your Mobile network
Step 18:
Touch on "APN" and fill in the APN details of your Mobile Network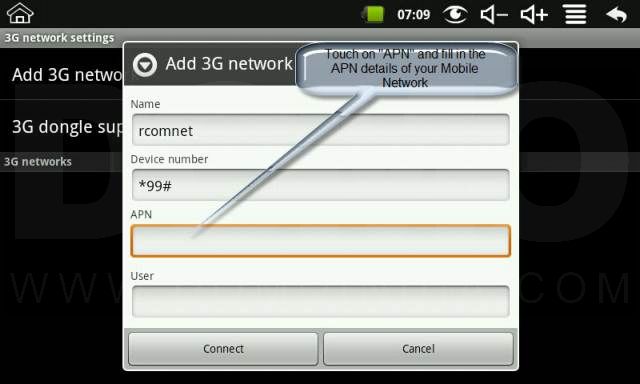 Step 19:
Touch on "User" and fill in the user details of your Mobile Network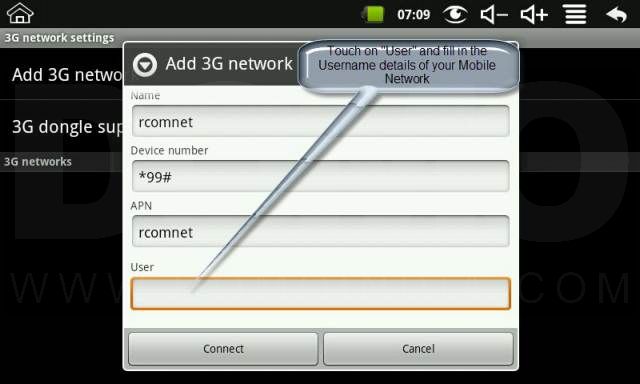 Step 20:
Touch on "Password" and fill in the password of your Mobile Network
After you have filled all details touch "Connect" in order to connect to internet using 3G